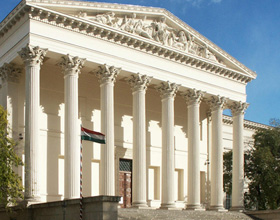 Art Gallery / Műcsarnok
District 14. Dózsa Gy. út 37. / Heroes' Square
The largest exhibition hall of the city is located in a great classical building at Heroes' Square. Temporary exhibitions of modern and contemporary artists. Open: Tue-Sun 10am - 6pm
Museum of Applied Arts
District 9. Üllői út 33-37.l
The Art-nouveau palace of the museum itself worths a visit. The collection embraces eastern carpets, treasury of the Esterházy family, art-nouveau glass works, Zsolnay ceramics, French furniture etc. Open: Tue-Sun 10am - 6pm
Vasarely Museum
District 3. Szentlélek tér 6.
Works of the French-Hungarian artist Victor Vasarely, founder of the op-art stream. Open: Tue-Sun 10am - 5pm
Museum of Fine Arts
District 14. Dózsa Gy. út 41. / Heroes' Square
Egyptian, Greek and Roman collections, 13th-18th century Italian, Spanish, Dutch paintings. French Impressionists and temporary exhibitions. One of the most renowned museum of Budapest. Open: Tue-Sun 10am - 5.30pm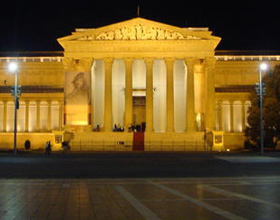 National Museum
District 8. Múzeum krt. 14-16.
It is housed in a Classical style palace designed by Mihály Pollack. Its collection possesses over 1 million items. The exhibitions show the history of Hungary from the foundation of the state until 1990. Open: Tue-Sun 10am - 6pm
Hungarian National Gallery
District 1. Buda Palace / Szent György tér 2.
The National Gallery is the largest public collection documenting and presenting the rise and development of the fine arts in Hungary from Medieval stone carvings to late 20th century art.
House of Terror Museum
District 6. Andrássy út 60.
The building was used by the Nazi Party in the 1940's and after that became the headquarter of the secret service during the communist era. Today it is a memorial museum of the victims of both dictatorships. Open: Tue-Sun 10am - 6pm
Memento Park
District 22. Balatoni út - Szabadkai utca / South Buda
A glance behind the Iron Curtain. After the change of political system the statues were removed from the streets of Budapest. Open: every day from 10am. till sunset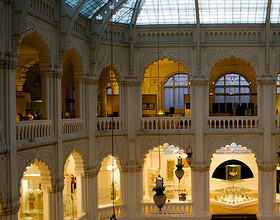 Jewish Museum
District 7 Dohány u. 2.
Located at the 2nd largest Synagogue of the World, the Jewish Museum intruduces Jewish life and traditions and the Jewish history in Budapest.
Museum of Military History
District 1. Tóth Árpád sétány 4.
The museum is located in the Buda Castle District and it introduces 1000 years of military history in the Carpathian Basin.
Transport Museum
District 14. Városligeti krt. 11.
Located in the picturesque City Park, the museum offers a great program for families with children. You can have a closer look at great old vehicles.